Icon Painting Workshops in the USA, 2019.
There are still places available for all workshops.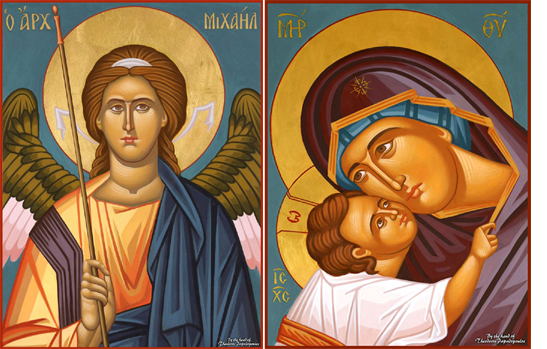 Dear freinds,
The Icon painting workshop taking place at different cities across the US is in progress. It is a great opportunity for everyone to experience first hand the painting of an icon. Whether you are a beginer or an advanced artist you will be able to follow the instructor for an outcome of a beautiful icon.
The subject of all workshops is the icon of Archangel Michael (at left), with the exception of the last workshop in Huntington, NY, where the subject is the icon of Mother of God (at right). The workshop Huntington will take place at a retreat center which provide lodging, for those who would like to combine the workshop with a period of rest in a peaceful setting.
If you are interested there is still room and time to sign up. Please see below the upcoming schedule for cities and times of the workshops
I am looking forward to seeing you in one of the workshops.
Sincerely yours,
Theodoros Papadopoulos
© Theodoros Papadopoulos. All rights reserved.